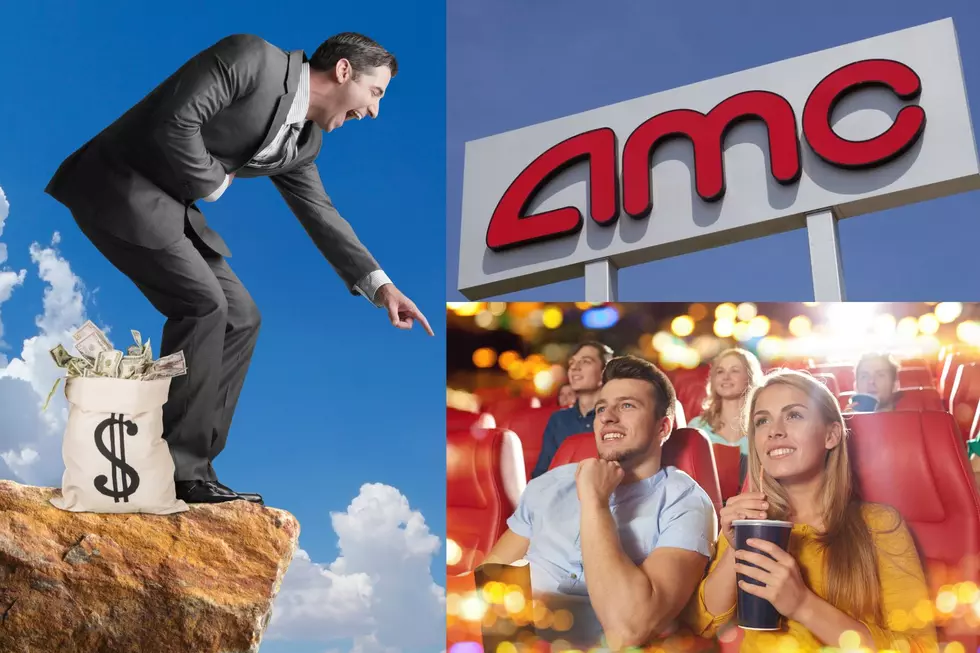 AMC Theaters Bringing Greedy & Insulting New Ticket Plan To New York
Canva/Getty Images
When I was a kid, I always wanted to get to the movie theater early. Not only did I get to watch all the trailers and get excited for the new releases, but for another key reason: to get the best seats. You know the ones. Middle of the row, about four or five rows down from the top. Perfect line of sight to let the screen fill your range of vision so you can get properly sucked in.
If I got there late for a popular movie, sometimes I'd have to sit on the side wing. Here the angle is off just enough to be inconvenient, but its way better than the third option - the front. It's the section of the theater that makes you wonder why anyone bothers sitting there at all. It's a crick in the neck waiting to happen and undoubtedly the worst view in the house.
Now the US' largest movie theater chain, with 30 locations in New York State, wants to ring a little more money out of your moviegoing experience by monetizing your literal line of sight in a visual medium. AMC Theatres has announced a new ticket pricing plan for 2023 called "Sightline."
Sightline breaks down theater seat pricing into three tiers: Standard, Value, and Preferred. Here's how AMC defines them in their press release.
Standard Sightline: The most common seats are available for the traditional ticket price.
Value Sightline: Seats in the front row, as well as select ADA seats, are available at a lower price than Standard Sightline seats. Value Sightline pricing is available only to AMC Stubs members, including the free tier membership (AMC Insider).
Preferred Sightline: These seats are typically in the middle of the auditorium and are priced higher than Standard Sightline seats. AMC Stubs A-List members may make reservations in the Preferred Sightline Section at no additional cost.
It's the latest move in the continued Ticketmastering of entertainment - attaching fees for every last detail. It's barely been two years since theaters were begging the public for help. They cried, "This is the end of theaters! This is the end of the moviegoing experience! Remember how much fun you had here! We need you!"
Now a few billion-dollar movies and big mainstream Oscar noms later and things are fine thank you; please pay us money for what was free before. And sure, theaters are still trying to make up for lost profits from 2020. AMC's competitor Regal Cinemas is in bankruptcy. Now movies drop to streaming two months after release. But this isn't going to make anyone want to rush to the theater.
It's just so insulting how AMC pitches the plan, which will apply to all movies after 4p except on Tuesdays. AMC CMO Eliot Hamlisch says Sightline is, "offering experienced-based pricing and another way for moviegoers to find value at the movies," and, "We know there are some moviegoers who prioritize their specific seat and others who prioritize value moviegoing." Translation: if your butt is in our seat, we've already won, but now we can win twice. It's not value if you have to spend the money you saved on a chiropractor later.
Of course, AMC is the same robber-baron brain trust that introduced "Dynamic Pricing" last year, where more in-demand movies at peak times cost several dollars more. This came after more than half of the people in AMC's focus groups said they'd be willing to pay more to see a blockbuster in theaters. (Pro tip: anytime a big chain asks you if you'd pay more money for their service, always say no. Lie if you have to.)
It's only a matter of time until 3/4ths of the way through your movie the film stops, the house lights come up, and they send around ushers with credit card swipers asking how much you would pay to finish the movie.
AMC Sightline is currently being rolled out across the country and will be in all New York locations by the end of the year.
Underrated '90s Films You Can Watch On Streaming
These movies don't get the love they deserve — but you can stream them at home right now.
Moments From 80's Movies That Scarred You For Life
Here are the movies you saw as a kid, and explain why you now need medication.
Movies That Critics Loved But Audiences Didn't
These movies all got high marks from critics, but general audiences were less than enthusiastic.
More From 103.9 The Breeze