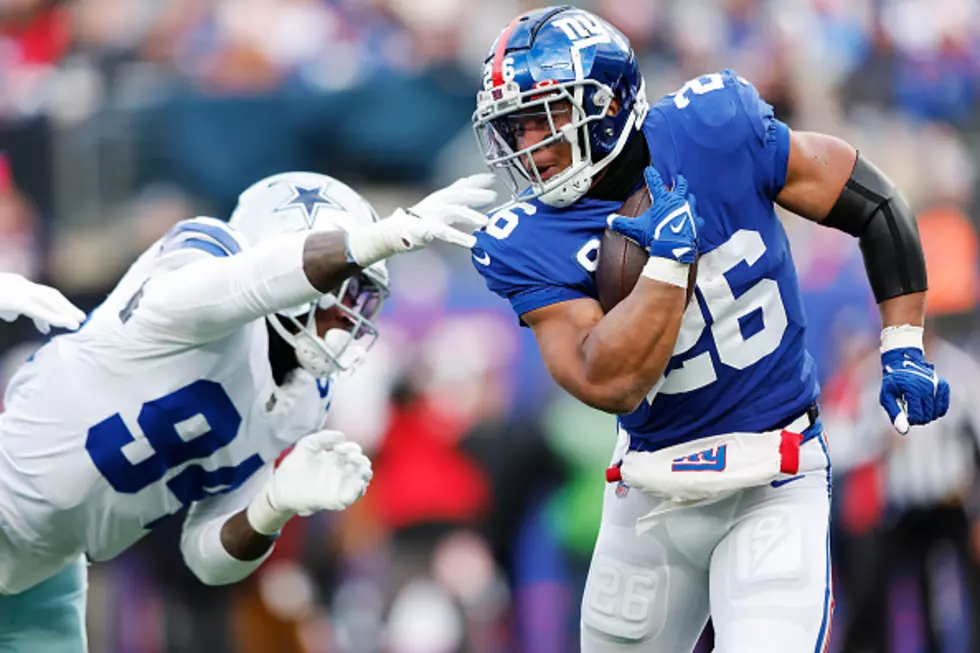 Are The New York Giants Going To Have A Good 2022 Season?
Getty Images
The pressure and expectations are high this season for the New York Football Giants.  Quarterback Daniel Jones has not looked great so far during training camp but has some room for improvement under head coach Brian Daboll.  The pressure is also on running back Saquon Barkley as the Giants just picked up his fifth year option and he will be making around $7.3 million this season.  He claims he is fully healthy and is playing for a big contract this season.  Realistically, I see the Giants getting around six or seven wins which will be an improvement from their four win season in 2021.  Here is my quick take on this from The Times Union:
It's not been a great start for quarterback Daniel Jones at Giants training camp. Jones has not looked like the quarterback the Giants need him to be this season. It's only training camp, and Jones is on his 3rd head coach in four seasons, but the passing game has struggled more times than not. Veteran backup Tyrod Taylor has been more impressive in camp, and with Taylor, at least the Giants have a strong number two if Jones fails to produce.
MJ, Joey, and I were all live on location at the Quest Diagnostics Training Center in East Rutherford New Jersey yesterday for Giants training camp.  We had interviews radio side with safety Julian Lover, offensive tackle Andrew Thomas, cornerback Adoree Jackson, and beat writers Jordan Raanan from ESPN and Paul Schwartz from the NY Post.  Below are all five interviews from yesterday from Big Board Sports.
Thank you again to the New York Giants for taking such good care of us as they always roll out the red carpet for Big Board Sports each time we arrive for Giants training camp.  I wish them the best of luck this 2022 NFL season.
Ten New York Giants' Players Who Got in Trouble with the Law
Every pro athlete has a human side, and as humans, we make mistakes. Here are ten New York Giants' players whose mistakes got them in trouble with the law.
See Photos Of Eli Manning And Other NY Giants Stars Training In Albany
Head coach Jim Fassel and company used the facilities at the University at Albany each preseason for over a decade, as some of the best Big Blue beasts tore it up in the Capital Region before taking the field in the NFL.
More From 103.9 The Breeze