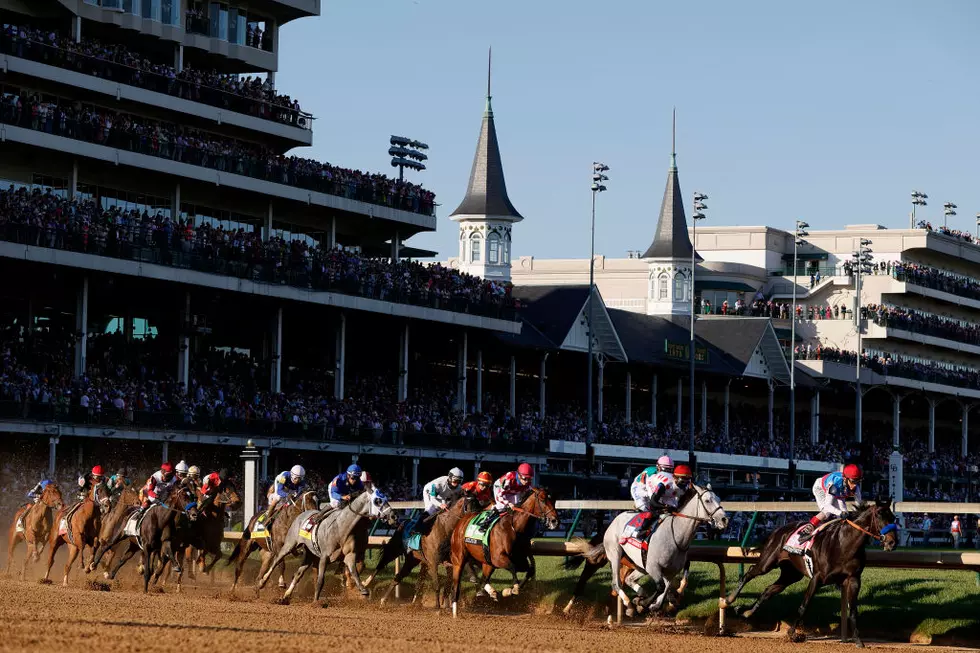 From KY to NY: Derby Party Tips From a Former Kentuckian
Getty Images
Just like Bob Baffert, you may find yourself celebrating the 'Fastest Two Minutes in Sports' from home this year. If that includes throwing a Kentucky Derby watch party this Saturday, you may feel a little soiree stress. As a former Kentuckian now at home in the Capital Region, I'm here to help with insider party tips straight from the Bluegrass State.
Let's start on a bombshell.
You don't have to drink Mint Juleps
I'm just going to say it: Mint Juleps are a waste of perfectly good bourbon. I've always felt they're a trick played by Kentuckians on unsuspecting visitors and tourists for a sick laugh. It's okay to admit you don't like them, and you certainly can find better drinks to make that celebrate Kentucky's spirit. Plus, muddling all that mint will give you tennis elbow. Try serving your guests a classic Old Fashioned, add local flavor with a New York Sour, or try a Kentucky Jellyfish.
Kentucky Jellyfish
1.5oz bourbon
1.5oz gin
6oz ginger beer
3 dashes of bitters
Squeeze of lime (optional)
Or you can just get in touch with your inner Kentuckian and sip your bourbon neat. Just remember the (as of yet unofficial) Bluegrass State motto: "if it ain't from Kentucky, it ain't bourbon."
But maybe you don't like bourbon! No judgment here. Did you know there's a second official Derby drink you'll find plenty of people sipping at Churchill Downs on Saturday? It's the Oaks Lily, named after the Kentucky Oaks, a race for fillies the Friday before the big race that some call "Locals Derby." This cranberry-juice-based vodka cocktail is mixed together with triple sec, lemon juice, simple syrup and served over ice, with an optional garnish of lemon wheels and blackberries.
Dress code
Dressing for the occasion should be a requirement, and feel free to get weird with it. Part of Derby Day's fun is seeing the outlandish, wild outfits wandering around the grandstand. Hats/fascinators should truly be the ugly Christmas sweater of your party. Consider making outlandish and ridiculous fascinators for those that come underdressed and could use a little extra... spirit. An overturned Kentucky Fried Chicken bucket is a great place to start. But please ask them for a clean, unused one at the counter or you'll have dogs and cats flying at attendees' heads, teeth bared.
The Turtle Derby
While the Kentucky Derby is a sprint for the horses, keeping party guests entertained throughout the hours and hours of pre-race coverage is a marathon for you. Sometimes it's hard to keep the energy sustained throughout the day (see drinks guide above for additional help), so let me introduce you to the Turtle Derby.
Originally started in 1945, the Turtle Derby was thrown by Louisville residents after the  horse Derby was postponed due to World War II. Jump forward to 2020. With the race once-again postponed due to COVID-19, Old Forester bourbon brought back the Turtle Derby, which is now livestreamed over YouTube, TV, and even on the big screen at Churchill Downs itself.
Eight turtles compete by starting in the middle of a two-ringed circle and seeing which turtle finds the outer ring the fastest, and yes, they have names and odds just like the horses do. For this third running (crawling?), the favorite is Hiding In Plain Sight at 5-1 with the longshot Out of the Bog at 50-1. Personally, I'm cheering for Sloane.
It's a perfect interlude to keep your guests entertained and betting on their favorites. The Turtle Derby is Saturday at 4p Eastern.
Food
Eventually, after enough Kentucky Jellyfish have been consumed, you will need some sort of food to keep your guests from crawling all over the furniture. Some Kentucky Derby party guides will tell you how you need a spread of Southern dishes. If you do, keep this in mind:
Deviled eggs are not supposed to be difficult. I don't know why American chefs decided to gentrify deviled eggs and make ridiculous towers out of a church potluck staple, but here we are. Resist the urge to add anything weird or clever to the top. Real Kentucky deviled eggs have paprika on top and that's it.
If you want to keep it extremely Kentucky, try your hand at Louisville's own Hot Brown sandwich. Invented at the Brown Hotel in the 1920s, this open-faced sandwich has turkey, bacon, and cheese on toast covered with a creamy roux. It's a fairly ambitious move, so have a backup handy.
Don't worry about the food too much. I'll tell you a little secret: everybody at the Derby is eating chicken fingers, anyway.
The Kentucky Derby post time is Saturday at 6:57p Eastern.
Saratoga Race Track and Celebrities
Here are some celebrities that spent some time at Saratoga Race Track
More From 103.9 The Breeze