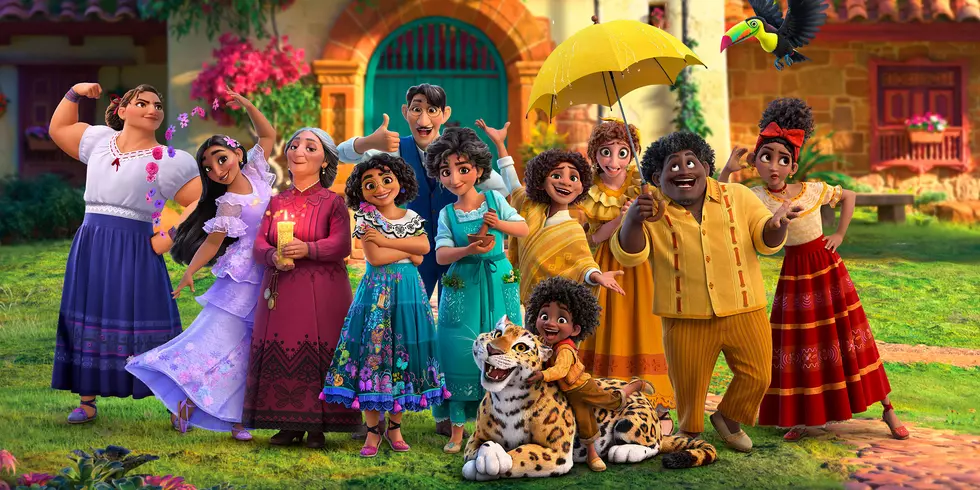 Don't Talk About Bruno… Sing Along With Him at SPAC's New Show!
Disney
If you have kids, you know Encanto. If you were on Instagram and TikTok at any point during 2021, you know Encanto. The lyrics are there in your brain, waiting for the perfect opportunity to burrow their way out in song. Maybe it's "Surface Pressure" that gets you or your family singing in rhythm. Maybe it's "The Family Madrigal." Or of course, there's the heavy hitter – "We Don't Talk About Bruno."
Now the Capital Region's biggest Encanto fans are getting the chance to sing along with Disney's smash hit live at SPAC.
Mirabel On Tour
"Encanto: The Sing Along Film Concert Tour" will be visiting thirty-two cities across the US in late summer. Maybe you've been to similar cinematic experiences, where an orchestra or band will play a movie's score along with the film. Where this differs as a true fan experience is that singing is strongly encouraged as the soundtrack comes to life in front of you. Can you imagine seeing Encanto without singing?
The entire film with a live 10-piece band performing the original songs by Lin Manuel Miranda, the brilliant lyricist behind Hamilton and In the Heights, and Germaine Franco, the composer behind Coco, Tag, and Dora and the Lost City of Gold. Lyrics will be also shown on screen for the perfect sing along experience.
When Can You Sing with the Madrigals?
"Encanto: The Sing Along Film Concert Tour" will be coming to Saratoga Springs on August 24 at 7p. Tickets go on sale through SPAC's website this Friday, June 24 at 10a.
Side note: Disney's tour website makes it abundantly clear that none of the actual characters will be in attendance, so just make sure your kids know.
See These Eight Family Movies Free At Albany's Palace Theatre
This year's Summer in the City lineup features a wide selection of movies for kids of all ages featuring dragons, robots, a certain large canine, and one movie your kids probably already know by heart. Tickets are now available to claim at the
Palace Theatre's website
and are first come, first served.
More From 103.9 The Breeze