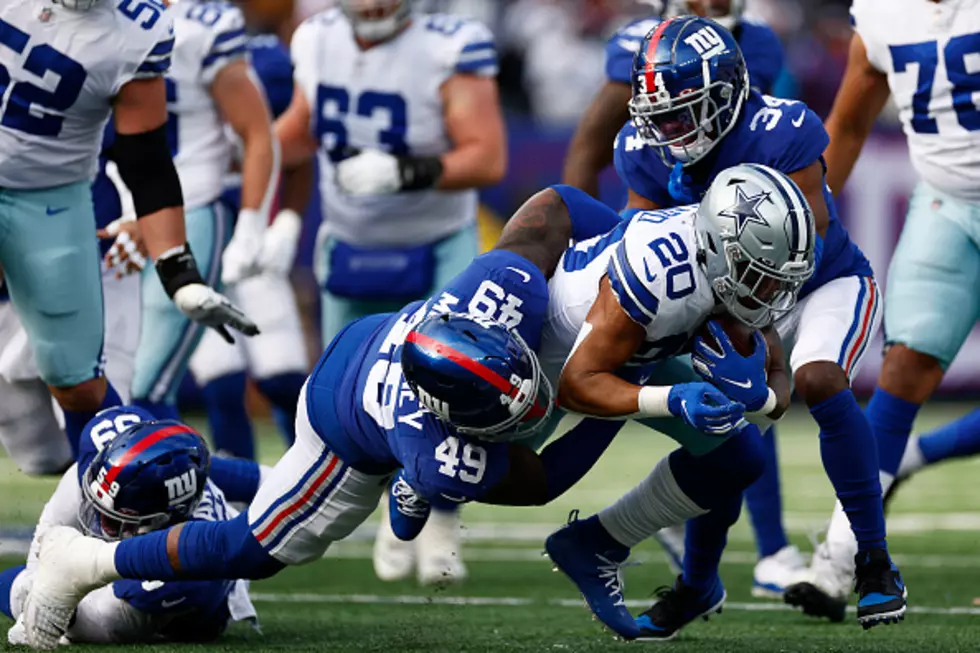 Familiar Battles Key For New York Giants' Fans Playoff Hopes
Getty Images
New York Giants fans are enjoying their team's incredible turnaround. With a 6-2 record coming out of the bye week, Big Blue fans realize that a playoff birth is more than within reach. That is if the Giants can continue to play above expectations and win the games they "should" win, like against the Texans and then the Lions. If head coach Brian Daboll and company continue to hold serve, Thanksgiving Day at 4:30pm could be an epic holiday battle in Dallas. Who would have thought that at the start of the season??
Is the Giants front office surprised where their team is right now? General manager Joe Schoen talked to Paul Schwartz of nypost.com and didn't seem all that shocked. "A lot of these guys have played winning football for us," Schoen told Schwartz. "The pro scouting staff has done a great job as well identifying these players, upgrading the practice squad and those players have filled in admirably and helped us get to where we are." But are they good enough to stay in contention? Star running back Saquon Barkley appears to have earned himself a contract offer from Joe Schoen with his outstanding play in the first 8 games and quarterback Daniel Jones may be on the same path, if he continues to play smart football and limits his mistakes.
The Turkey Day battle with Dallas starts a string of four straight weeks of NFC East opponents that will most certainly determine Big Blue's playoff fate. That string of games is followed by the 7-1 Minnesota Vikings and two weeks later another match-up with undefeated Philadelphia. However, Daboll has been around the block and knows that you have to play the game in front of you.
"I think we just live in the moment," Daboll told nfl.com. "Each week is its own week in the NFL, and you try to stack as many (wins) as you can together. And at the end of the year, wherever you're at, you're at. I think if you lose focus on what's important, which is the only thing you can control, is today. And then go out there tomorrow and get ready to play a good team, that's all you can control. If you get too far ahead of yourself, again, it brings you back to reality real quick." However, for Big Blue fans, it's tough not dream about a meaningful Thanksgiving match-up between the Cowboys and the Giants in few weeks. OK, OK, first things first. Beat the Texans and the Lions.
10 Lost Stores Upstate New Yorkers Miss the Most at Xmas Time
Upstate NY Fans Rip Apart Photos of New Buffalo Football Stadium
The Buffalo Bills released artist renderings of their new football stadium, and Upstate NY fans were quick to share their negative opinions on how it looks.
More From 103.9 The Breeze