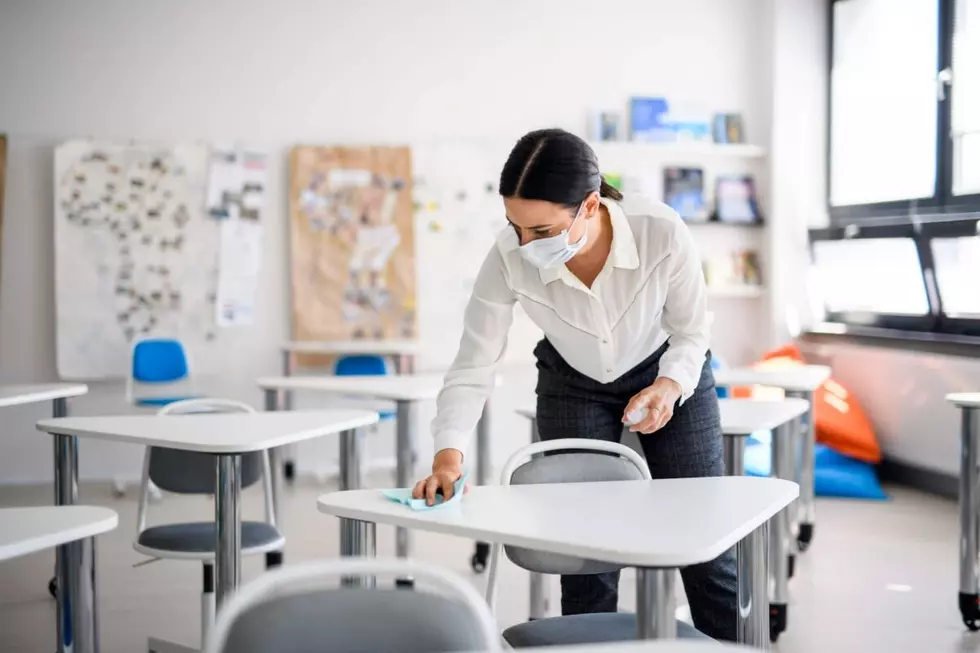 Governor Hochul Reveals Plan To Assess Ending New York School Mask Mandate
Shutterstock
Now that the state mask mandate for businesses has been lifted, the big question for parents is when will the school mandate get lifted?
While the business mandate getting lifted was a welcome change as we emerge from the omicron surge, a lot of questions remain regarding students having to mask up in school. The biggest being when can our kids finally go back to school without having to wear one?
Other states around us have announced their plans to end their mask mandates: Boston.com says the Massachusetts mandate will end February 28th and New Jersey will lift their mandate the 2nd week of March according to the New York Times. So when could we see the state of New York also ending the COVID mitigation measure?
Governor Hochul's Plan To Reassess School Mask Mandate
In her COVID briefing yesterday Governor Hochul said the state will reassess the need for the school mask mandate the first week of March when students return from winter vacation. With students traveling and being out of class for an extended period of time the Governor feels that would be the best time to monitor the data and testing results to determine the next steps with the school mask mandate.
The Governor said she has gotten feedback from different school officials throughout the state not only on the assessment of lifting the mandate but also to have plans in place on how to handle positive COVID cases in the classroom when it is lifted.
So the best answer we have right now on lifting the school mask mandate? We may have an answer in the first week of March.
5 Capital Region Retail Stores Set To Close In the New Year
Restructuring, retirements, COVID, and more are behind several Capital Region businesses getting ready to close their doors in 2022.The lastest of which is a local furniture store that has been operating across 9 decades. Here are the changes you can expect in the Capital Region retail landscape in the months ahead.
10 Capital Region Dream Headlines We Would Love To See In 2022
As we look ahead to the promise of the New Year, here are 10 dream Capital Region news headlines we would love to see in 2022. Some are crazy, some could happen. Either way, they would be great to see!
More From 103.9 The Breeze