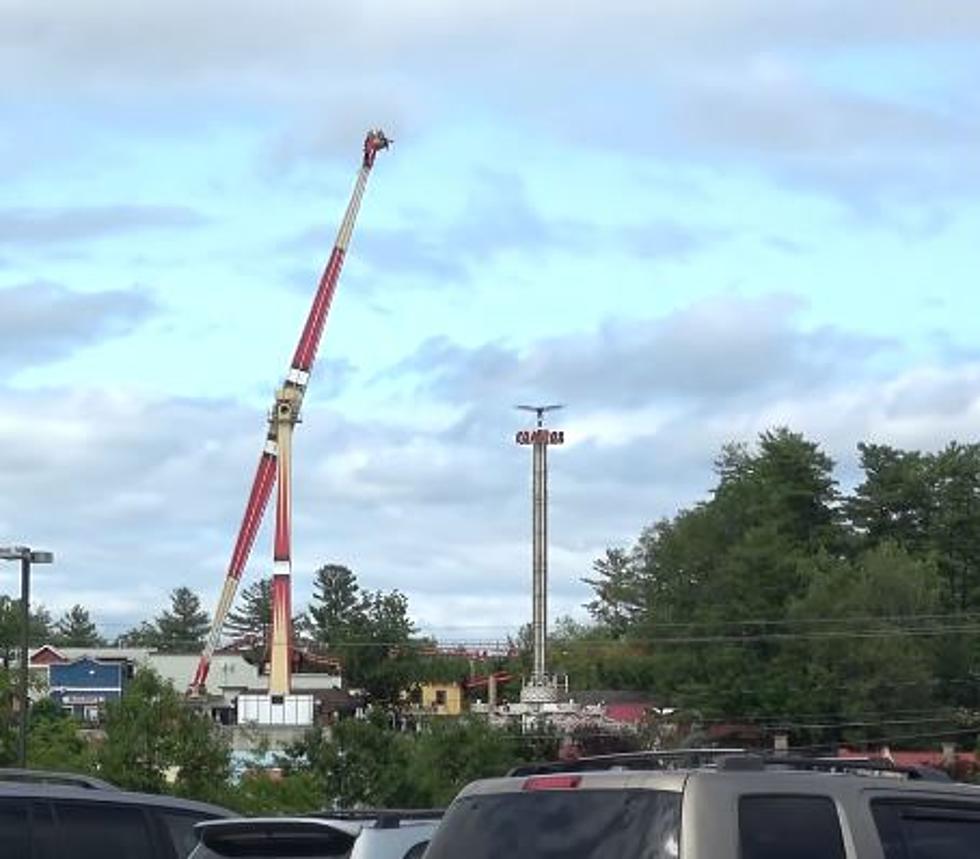 Great Escape's New Ride Looks Amazingly Terrifying. Would You Go On It?
Photo: YouTube
The Adirondack Outlaw, the new thrill ride at the Great Escape in Lake George, finally opened and people with very strong stomach's had a chance to go on it over the holiday weekend.
First off, I will tell you that as a kid, I loved these kinds of intense rides.
Even during most of my adulthood I've never turned down the chance to go on the bigger, taller, scarier rides at the various theme parks I've been to.  But this thing?  The Adirondack Outlaw...I'm not so sure I can handle it.
Just watching the video of it - taped from the parking lot hundreds of yards away - you can hear the screams.   As the cameraman zooms in on the actual ride itself, I started to get nauseous. You can see faces and feet of those seated on the ends of the giant pendulum-like crane as it loops around, turning them upside-down.
I think I would survive, but I would be ruined for days.  It's not the ride's fault, my back is shot and my stomach is weak.  Literally, if I don't properly position a pillow underneath my body at night, my back is so jacked I won't be able to walk in the morning.  And that's damage happening to me while I'm sleeping! 
 

"This new ride is the first in the park's history to combine height, speed and dual motion. The adventure begins as the ride's giant arm launches guests 16-stories into the air, spinning round in a giant vertical circle while the unique open-air pods are simultaneously flipping them head-over-heels. As riders soar upward, the circular rotation continues for a thrilling, one-of-a-kind experience." The Great Escape
Do you remember the Pirate Ship at the Great Escape?  It was a great ride and super simple-  the ship just went up and down in a half-circular motion.  When the gates opened and they let us choose our spots, I would find one on the very end of the ship so that I could get as much "air" as possible.
But that was a much younger version of Brian.
The one who didn't need to take a Prilosec before having a slice of pizza and one who didn't get dizzy and messed up on the Teacups and Saucer's ride we recently took my 6-year-old son on in Wildwood.
I'd like to think I'm badass enough to take on "The Outlaw," but I'd probably be more inclined plan my own great escape before they lock me in and send me careening out of control.
LOOK: Here are the 50 best beach towns in America
Every beach town has its share of pluses and minuses, which got us thinking about what makes a beach town the best one to live in. To find out,
Stacker
consulted
data from WalletHub
, released June 17, 2020, that compares U.S. beach towns. Ratings are based on six categories: affordability, weather, safety, economy, education and health, and quality of life. The cities ranged in population from 10,000 to 150,000, but they had to have at least one local beach listed on TripAdvisor. Read the
full methodology here
. From those rankings, we selected the top 50. Readers who live in California and Florida will be unsurprised to learn that many of towns featured here are in one of those two states.
Keep reading to see if your favorite beach town made the cut.
More From 103.9 The Breeze