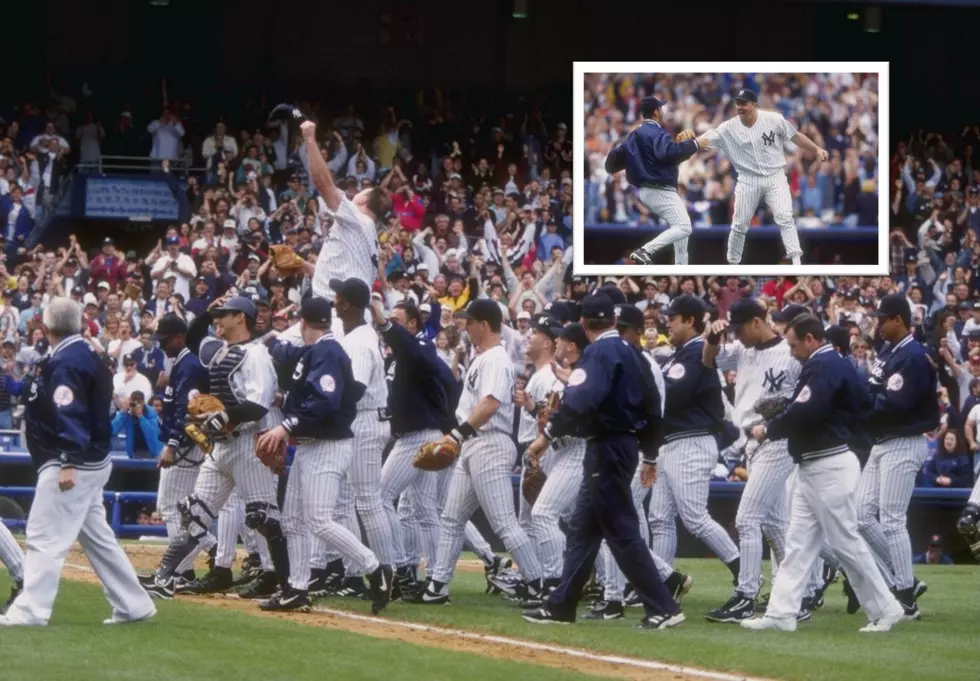 How NY Yankees' Wells Went from SNL Boozefest to Perfect Game
Getty Images
On May 17, 1998, David Wells through the 15th perfect game in Major League Baseball history, shutting down the Minnesota Twins as a member of the New York Yankees.
Upon the final out being recorded, bedlam broke out at Yankee Stadium. Wells was mobbed by his teammates, and carried off the field on their shoulders, with the roar of the crowd following the pack into the clubhouse.
What happened during the 24 hours before Wells' start, however, is a completely different story, and lives in baseball lore.
---
The Night Before: Partying with Saturday Night Live
In an interview with the YES Network, David Wells broke down the entire story of his perfect game with the New York Yankees. He begins the interview by talking about the night before the start, which turned out to be one of the most unconventional pre-start nights in modern baseball history.
As the story goes, Wells attended the taping of Saturday Night Live the evening before, and was invited to the after-party by the show's creator, Lorne Michaels. Wells originally declined the offer, asserting that he had to pitch the next day, but was encouraged to "stay for a bit, and then leave" by Michaels, an offer that Wells eventually accepted.
Then, as he put it, "one thing led to another."
The "things" in question were in fact drinks, as Wells went on to explain that Jimmy Fallon, Seth Myers and other unnamed cast members all asked him to have a drink with them at one point or another that night.
---
The Morning After: Driving Home, and to the Ballpark, Before Game Time
At this point, it's 5:30 AM, and as Wells put it, "I didn't know which end was up."
He arrived home, fell asleep, and was woken up by his son at roughly 8:00 AM. So, if you're keeping score at home, that's roughly 2.5 hours of sleep on the night before he is scheduled to start, in addition to a night of drinking.
Wells cooked breakfast for his family, and described that, at that point, he couldn't go back to bed. After all, the game was scheduled to start at 1:30PM that afternoon. So, Wells hopped in the car, and had what he described to be a "pretty rough ride" to Yankee Stadium.
---
The Game: Utter Perfection on the Mound
Wells described himself as, unsurprisingly, feeling bad about the events of the night before, and knowing that his mind wasn't in the game at the time. He recognized that he had to get his mind right, and based on what happened next, it seems as though he was successful.
Wells would go on to set down all 27 batters he faced in the game, including holding Hall of Famer Paul Molitor to an 0-for-3 day with a strikeout. He struck out 11 total Twins' hitters that day, throwing 120 pitches en route to his perfect game.
Offensively, Bernie Williams went 3-for-3 that day, and he, Darryl Strawberry and Chad Curtis all had runs batted in as part of the Yankees' 4-0 victory.
So, as David Wells set down the final hitter of his afternoon to complete his perfect game victory, New York Yankees' fans should always remember that he had just completed, arguably, the craziest 24 hour stretch for any MLB player in the modern era of baseball.
If you want to watch the full video of Wells from the YES Network, here it is...
The Ten Most Underrated Heroes in New York Sports History
We all know Jeter, we know Manning, and we know Willis Reed. But, what about the other guys, the quieter heroes, that still made a major impact on New York sports?
The Most Iconic Moments in Albany Sports History
More From 103.9 The Breeze