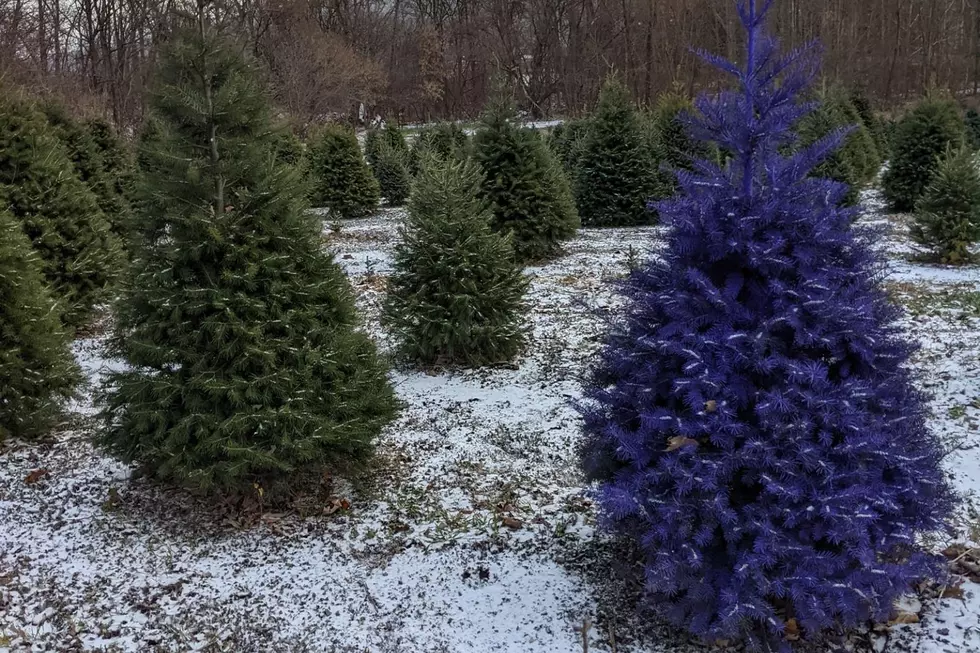 One NY Wine Country Farm's Christmas Trees Turn Purple, Go Viral
Hanggi's Tree Farm on Facebook
If you've ever had to clean a wine stain off of clothes or carpet, you know those stains are no joke. There's something about the tannins of the wine that adds purple to everything.
So, imagine the amazement and curiosity people feel when driving through New York wine country in the Finger Lakes and see among the rows of evergreens, an everPURPLE – a Christmas tree the same shade as a wine-producing grape.
Somebody Cut Off That Tree
If too much wine colors your tongue purple, what about a Christmas tree growing in that good, tannin-rich wine country soil? That's why so many New Yorkers show up to Hanggi's Tree Farm in Naples to see (and take home) what's becoming one of the state's newest Christmas traditions.
The purple trees have been a local hit for years, but when a woman posted a picture of one on her Facebook this year with some creative speculation as to why wine country trees turn purple, it became a viral hit that led to a USA Today article.
As plausible as it may sound that tannins could color a Christmas tree like a grape, its actually a new trend of painted Christmas trees. David Hanggi and his family started painting their home-grown trees after seeing a demonstration at the annual Christmas Tree Farmers Association of New York conference.
At the conference, a tree had been painted green as a way of covering up discoloration but David and his wife started thinking about other colors. They settled on purple, appropriately, for the Naples Grape Festival. It was a hit.
One For The Road
Hanggi's Tree Farm has been selling 50 to 60 painted trees every year since to those wanting a unique pop in their Christmas decor. The food-grade paint is entirely safe for any pets (or kids) that might decide they want to munch on a branch. The Hanggis say they get requests for new colors all the time.
They've expanded into midnight blue this year (very classy), but still haven't nailed down one particular fan-request: Syracuse Orange. (It fades and doesn't look quite right.) Since the USA Today write-up, the Hanggis have gotten orders from places as far away as Texas and Colorado.
Hanggi's Tree Farm is open at two locations: The Barn and their cut-it-yourself lot, The Hill. They just added real, live reindeer at The Barn this year that came in from Alaska  for an extra magical touch on Saturdays and Sundays until Christmas. If these purple firs are the new New York holiday tradition, color me in-TREE-gued.
LOOK: 25 over-the-top Christmas displays from across America
To help get everyone in the mood for the upcoming holiday season,
Stacker
compiled a list of some of the most over-the-top Christmas displays across America.
Check Out These Vintage Photos Of Santa's Workshop In North Pole, New York
Santa's Workshop in North Pole, New York has been a Christmas tradition in the Adirondack Mountains for almost 75 years! In operation since 1949, Santa's Workshop is
known
as the "...forerunner of present-day theme parks in the United States." Sanat's Workshop is a year-round celebration of all things Christmas, featuring rides, special characters, real reindeer, a toy shop, and so much more according to their
website.
Talk a walk down memory lane in these photos below from 1955.
More From 103.9 The Breeze