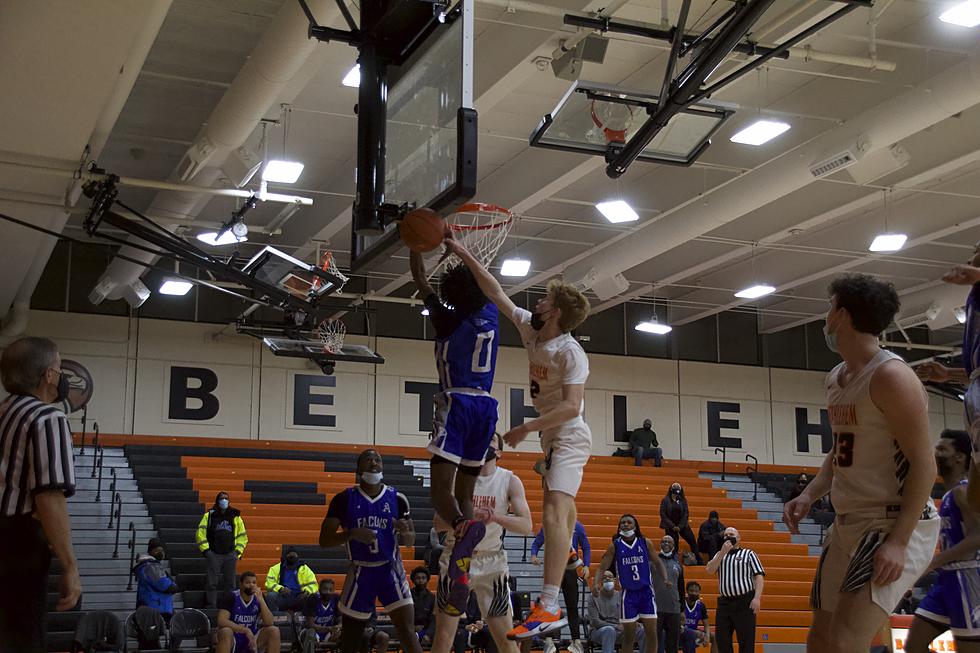 Niskayuna, Ballston Spa & Albany Stay Hot In High School Hoops
Photo by Sasha Jo
February is an awesome basketball month. High school teams are battling it out with their conference opponents to try to get the best seeding possible for their tournaments, starting in less than a few weeks. On the first day of the month there was 33 games on the schedule for the boys and 18 for girls basketball.
In boys basketball, sitting in the top spot in the Suburban Council, Niskayuna traveled to Schenectady for a 76-60 victory. Hot on their tails is Ballston Spa, who beat Burnt Hills 70-48. Albany stayed in the mix with an outstanding victory over CBA 55-43. Troy downed Columbia 59-44, while Bethlehem nipped Averill Park 39-37. Guilderland got by Shaker 55-49, as Saratoga traveled to Colonie for a 54-43 victory. Shenendehowa traveled to Kingston to knock off the Tigers 49-43. Kingston had taken down the Plainsmen 3 weeks ago in overtime 75-74.
In the Foothills Council, there was a battle of the top two seeds with Hudson Falls knocking off Scotia 59-42. Amsterdam slammed Glens Falls 80-57, as Queensbury took care of South Glens Falls 56-43. Gloversville downed Schuylerville 41-33. A big win in the Colonial Council for Icabod Crane, as they took down Catholic Central 68-63. Cohoes still sits in the top spot with a 14-1 record. Cobleskill beat Voorheesville 63-46, while Schalmont took care of business against Ravena 63-46. LaSalle shut down Mohonesen 78-42 and Lansingburgh beat Notre Dame-Bishop Gibbons 79-62.
In the Adirondack League, Granville smacked Corinth 89-35, as Warrensburg held down Whitehall 61-43. In a battle of the 'Forts', Fort Ann traveled to Fort Edward for a 53-41 win. Fonda kept their #1 seed in the Western Athletic Conference with a win over Duanesburg 62-51, while Schoharie knocked off Middleburgh 60-34. In the Central Hudson Valley League, Doane Stuart got a road win over Heatly 70-61.
In the Suburban Council in girls basketball, second place Averill Park kept up their pursuit of #1 Shenendehowa with a 61-49 victory over Bethlehem. Third place Colonie knocked off Saratoga 49-41, as Shaker downed Guilderland 60-43. Niskayuna smacked Schenectady 63-28 and Colombia nailed Troy 64-23.
Wasaren League leader Greenwich took down Hoosic Valley 68-19, as Tamarac beat Hoosick Falls 63-46. Cambridge held down Spa Catholic 49-32. In the Colonial Council Albany Academy whacked Cohoes 66-24, as Icabod Crane nipped Catholic Central 49-46. In the Western Athletic Conference Northville beat Galway 51-29 and Independent Emma Willard defeated Berlin-New Lebanon 69-15. Best of luck to all of the student-athletes for the month of February and beyond!
Every Country Artist Performing In Upstate NY In 2022
We are set for a big year of Country shows in 2022, and here is a complete list of artists set to perform in 2022 in the Capital Region and all over Upstate New York.
More From 103.9 The Breeze