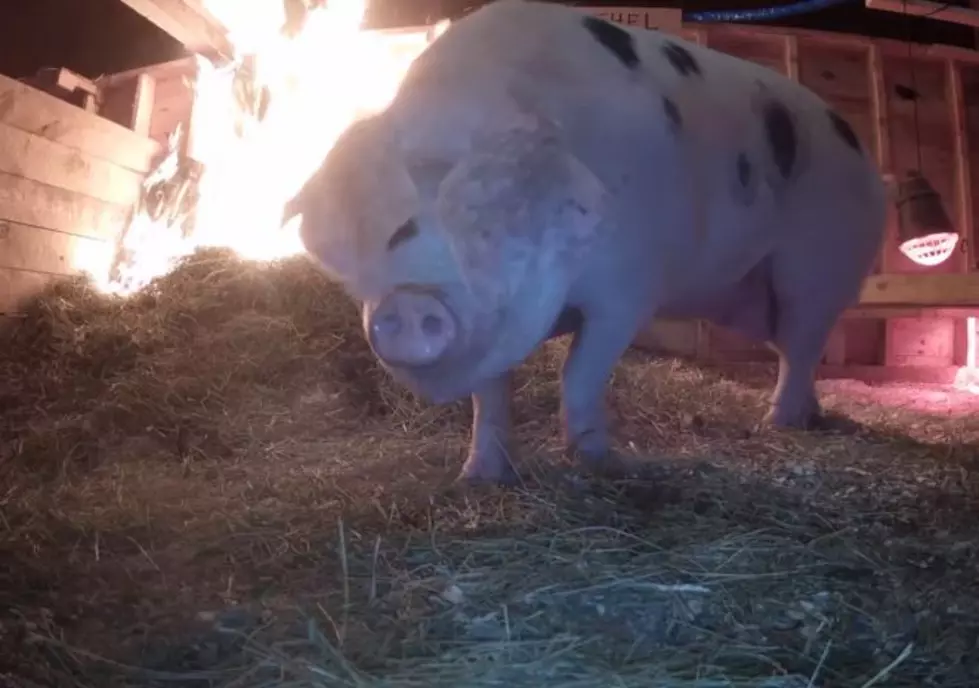 'Swine Cam' Saves Pregnant Pig in June Farms Fire
Photo: YouTube
A fire inside of the pig barn at June Farms in West Sand Lake over the weekend could have been deadly for a pregnant pig, but miraculously, she was saved.
The owners of June Farms admit that they may have made the mistake led to the blaze that started on Saturday in one of their pig barns.  Fortunately, due to some quick thinking by an animal lover and the local fire departments, they extinguished the fire quickly and most likely saved the pig and her unborn babies.
According to the June Farms Facebook page, a heat lamp used to keep the pregnant pig warm was accidentally knocked over, causing the dry hay to catch on fire.  Remarkably, earlier that day, June Farms created a YouTube Live channel so that curious animal lovers could keep track of the pregnant pig and watch the birth of the piglets.
It's unknown how many people were watching the live feed at the time, but one woman who was, saw the barn catch on fire.  While the fire grew, the distraught pregnant piggy backed away from the heat seeking refuge and that's when according to June Farms, a viewer took action.
According to June Farms, Laura Palladino immediately called 911 and firefighters from West Sand Lake and Averill Park were dispatched and extinguished the fire before any animals were harmed.
It's pretty remarkable that the "Swine Cam" had been installed earlier that day and the entire staff at June Farms certainly feel blessed and lucky that someone was watching and took quick action.
"This has been a difficult lesson to learn about the dangers of heat lamps, and how quickly and easily they can cause a fire," they wrote on their Facebook page.
Check out the dramatic video here:
Enter your number to get our free mobile app
OH NO WE DIDN'T: 12 Photos That Prove That Alpacas Are Cuter Than Llamas
More From 103.9 The Breeze