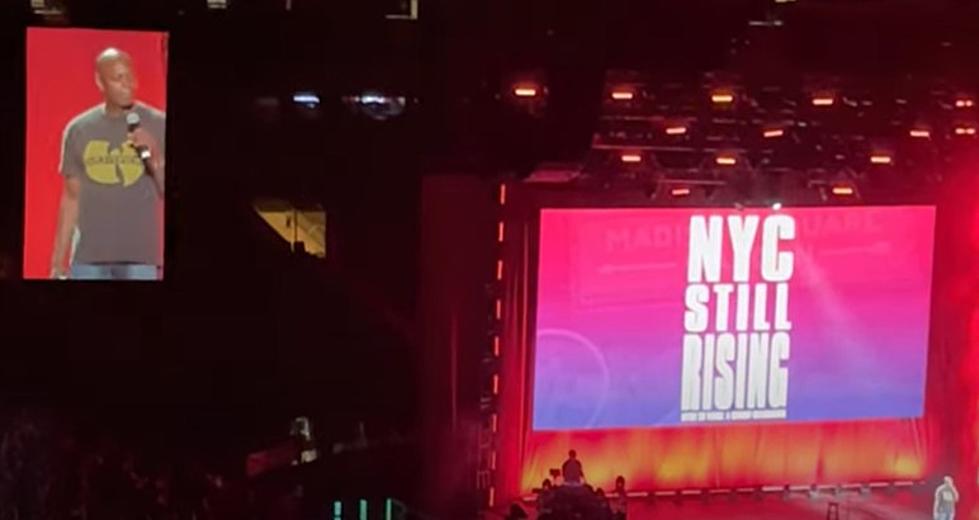 The Best Comedians in The World Came to NYC to Raise Money for 9/11 Charities
Photo courtesy of Youtube / Andrew The Alchemist
When remembering an occasion as somber as September 11th, sometimes, the best thing to do is laugh.
Some of the best comedians in the world flocked to New York City over the weekend to do just that: bring laughs to the masses for an incredible cause. The event, which was called "NYC Still Rising After 20 Years: A Comedy Celebration", was held at Madison Square Garden on Sunday night. All proceeds from the show were donated to charities involved in helping causes related to September 11th.
For a cause as important as this, you need the best, and boy, did the best ever show up.
Take a look at this MONSTER line-up of comics:
There isn't a bad comedian anywhere on this list, but let's take a moment to appreciate the true greats.
First of all, any event that has Dave Chappelle or Chris Rock performing in it is instantly an all-time great. Both comedians are successful beyond compare, and do not tour with any kind of regularity. This is especially the case for Chappelle, who will occasionally just *appear* at events and take the stage for hours at a time, until he has made every last attendee laugh until their stomach hurts.
In addition, you have the dynamic duo of Michael Che and Colin Jost, who have held down Saturday Night Live's Weekend Update desk for years now. The duo has an incredible amount of chemistry, with both Che and Jost bringing a unique and hilarious skillset to the table. Oh, and how can I mention SNL and not mention Pete Davidson, or his "show-biz dad", Jimmy Fallon.
Last, but certainly not least, you have a few of the biggest touring comedians of 2021. Bill Burr, Tom Segura and John Mulaney could ALL be ranked in the top-three of comedians who still tour regularly. Burr has never, and will never, care what you think about his jokes, and that in and of itself is hilarious. Segura has a dark sense of humor that only applies to some, but that "some" has multiplied over the past year or two. Then, there's John Mulaney, who despite his recent personal life struggles, still remains one of the smartest comedians in the game.
I have to give a tremendous amount of credit to each and every comic who made time to do this show. This is an incredibly important cause to raise money for, as many families who were directly affected by the attacks still struggle to this day.
It's a powerful gift to be able to make someone laugh, and it's even more powerful to use that gift to benefit a good cause.
While the YouTube video still exists, here is a clip from inside MSG during the event. If YouTube takes it down before you read this story, remember, it wasn't my fault.
CHECK IT OUT: The Best Movie Character Names of the 1980s
LOOK: TV Locations in Every State
More From 103.9 The Breeze