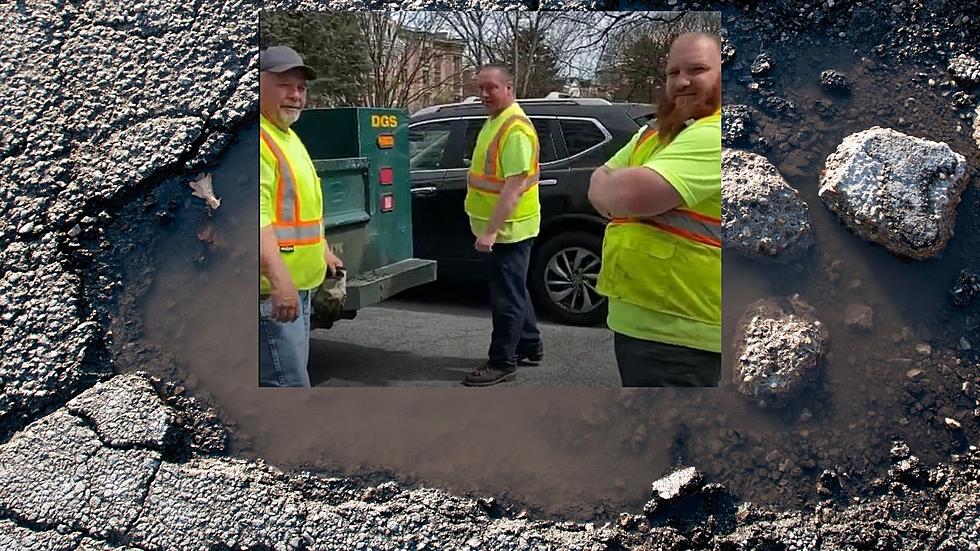 Filler Up! Albany's Concrete Kings are Fixing 300 Potholes in One Day!
Photo: Screen Grabbed from AroundAlbany IG/Canva
They lurk beneath your car...waiting for the right moment to strike.
Most of us can sense when it's approaching -  but it doesn't matter - we hit that dang thing every time we drive:  POTHOLES!
They're everywhere in Upstate NY, and depending on where you live, you probably think your pothole problems are the worst.  And sometimes, even when we know where they are, the flow of traffic makes it impossible to avoid these Capital Region craters.
The sound of Crash, Bang, and Thud is usually followed by a series of curse words toward the people "who should have fixed this thing!  We've all been there and if I asked which city or town in Upstate New York has the worst potholes problems, we'd get 200 different answers.
But what about the unsung heroes who are fixing them?
These Concrete Kings are out there too, trying to keep up, and with the kind of sh*tty weather we're experiencing now, they may never get there.
On Monday afternoon, just a day before a sizable snowstorm would wreak havoc on roads in the Albany area, city workers for Albany's Department of General Services were out in their trucks, filling hole after hole trying to make our ride around town a little smoother when they were approached by a man in his car.
I'm not sure what these guys were thinking when he pulled up alongside them - perhaps they were expecting someone to bust their chops over the usual conditions of city roads, but instead, something else happened.
In an Instagram video posted by AroundAlbany, the hardworking guys from Albany DGS were given a well-deserved shoutout and they seemed to appreciate it - but who knew they filled this many potholes?
The Most Dangerous Roads In New York - Two Are In The Capital Region
More From 103.9 The Breeze