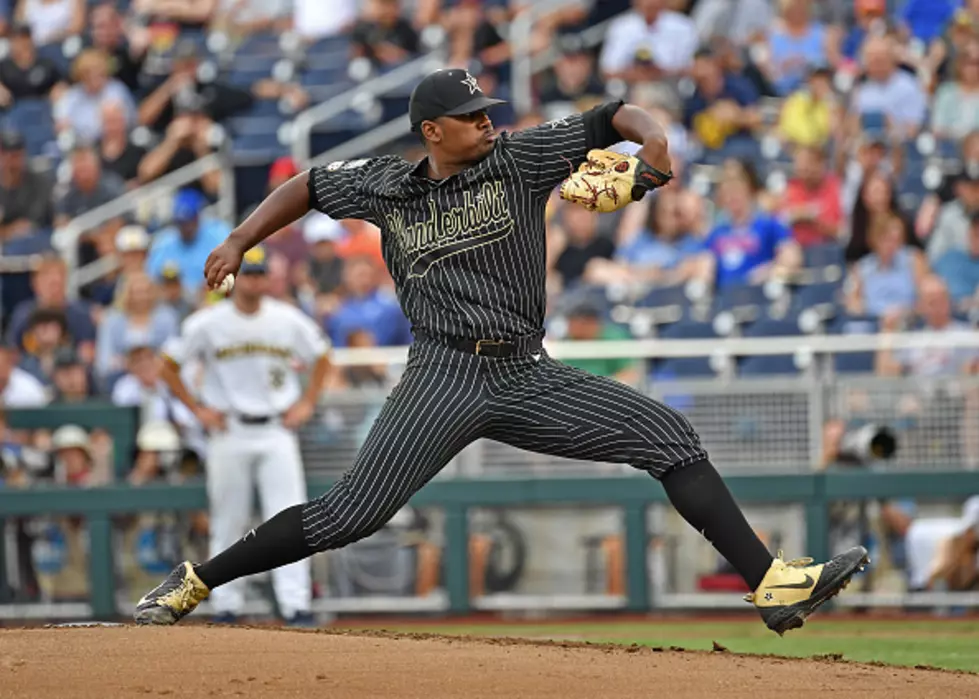 Kumar Rocker Was Very Fun To Watch For The Valleycats At The Joe
Getty Images
The Tri City ValleyCats have been on a roll recently and have been able to consistently win some ball games to keep climbing the Frontier League standings.  Team President Rick Murphy and Vice Present and General Manager Matt Callahan has done an awesome job with this team along with manager Pete Incaviglia.  The attendence figures have been great overall and especially as of late.  One major reason for that is because of star pitching prospect Kumar Rocker.  Here is my quick take on this from The Times Union:
It was awesome watching Kumar Rocker pitch at the Joe this summer, and of course there was a noticeable spike in attendance when he was on the mound. But unfortunately, there is still a question mark swirling around regarding his overall health, and the minor surgery he had on his arm in September. How much that affects his draft status in mid July is anybody's guess. Rocker looked fantastic in all of his starts for the ValleyCats, that has to account for something.
MJ and I always have on either Pete Incaviglia or Matt Callahan on Thursdays.  We also featured Tommy Kretzler on this past Thursday as well.  He closed out the game that gave Kumar Rocker his first win which is an awesome local story for the Brockport standout.  Below are our two interview with them.  Also included below is MJ and I discussing Kumar Rocker's final start from Friday earlier this morning.
I wish Kumar Rocker nothing but the best in the MLB Draft and with his baseball future in general.  His final stats in five starts with the ValleyCats were 1-0, 1.35 ERA, 32 strikeouts, 20 innings pitched, which is very impressive.  He certainly has been very exciting to watch pitch for the ValleyCats at the Joe this summer over the last month.
Former Tri-City ValleyCats Playing in the ALCS This Season
Between the Houston Astros and Boston Red Sox, there are TEN (!) former Tri-City ValleyCats who have the chance to play in the American League Championship series this season. Here's what you should know about them.
Is the Population Growing, or Shrinking, in Capital Region, NY Counties?
New York's population has gone down in past years, but the population of the Capital Region hasn't always matched that trend. How many people live in your county?
More From 103.9 The Breeze