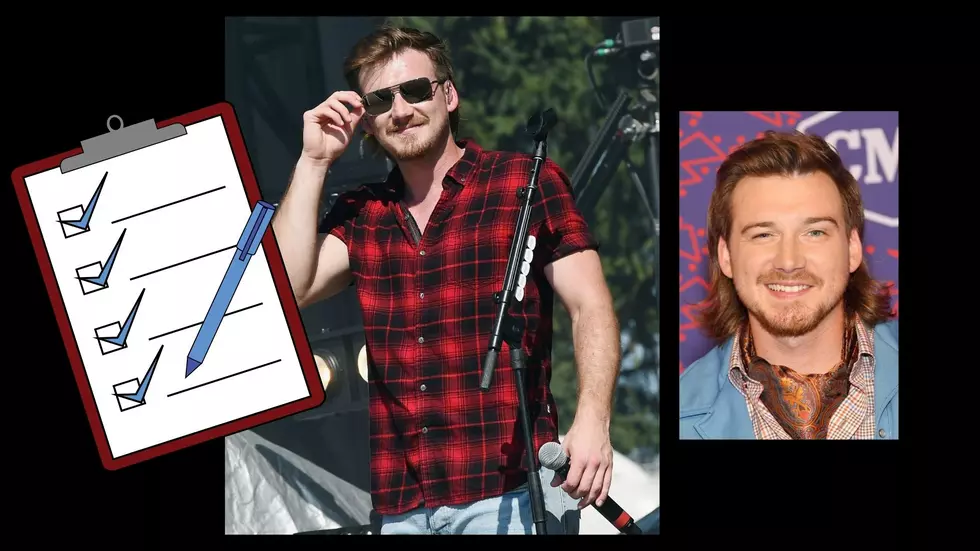 Morgan Wallen Sold Out SPAC! 11 Things to Know if You're Going to the Show!
Photo: Getty Images
An enormous crowd is expected at SPAC Thursday night when one of country music's hottest stars returns to Upstate New York and we know you can't wait!
Morgan Wallen's "The Dangerous Tour" featuring special guest Hardy has been sold out in the Capital Region for months and anticipation for Thursday night's mega-show feels like an all-time high.
Large crowds are nothing new to country music fans, seemingly every artist packs them in thanks to your loyalty and love for "all things country," but the Wallen show is a bit different.
For starters, it's completely sold out - which rarely happens.  As a result, traffic will be heavy, space will be limited, and SPAC staff will have a zero-tolerance policy when it comes to enforcing all LiveNation and SPAC rules.
Here are some FAQs that GNA and Wallen fans have asked the most - and hopefully this will help you have an even better experience once you get inside SPAC tonight.
Are tickets available?
Yes! Tickets are available if you know where to look! The show is completely sold out, but plenty of people on Facebook and Stubhub are looking to sell last-minute tickets and prices have come down.
But making sure they're authentic is your responsibility,  Here is what you need to know about online ticket purchases.
What's the weather supposed to be like?
Mostly sunny this afternoon with a high near 81.  Perfect
Mostly cloudy in the evening with a low around 62. Even better!
How crazy is the traffic going to be?
Traffic will be very heavy on show day. Please give yourself enough time to arrive at the venue.  SPAC strongly encourages carpooling
Do I need proof of vax?
Entry protocols for this event will be following local guidelines, which currently are not requiring proof of vax/negative test for entry.
What kind of bag can I bring inside?
To reduce staff contact with guest belongings, SPAC has a bag policy.  They allow clear plastic, vinyl, or PVC tote bags no larger than 12" x 6" x 12" and/or small clutch bags (4.5"x 6.5"). No other bags of any type will be allowed.
What time should I get there so I can get inside and start partying?
The SPAC parking lot for the Morgan Wallen will open up at 4 PM.
The gates will open at 530, allowing people 90 minutes to settle before the show starts at 7 PM.
The lawn is going to be packed, what may I bring inside to sit on?
For the safety and convenience of all our guests, only collapsible lawn/camping chairs will be permitted with the height of the chair not to exceed 43" when collapsed. Canopies, footrests, side tables, and other attachments are prohibited. This policy will be strictly enforced.
Can I bring my cell phone inside SPAC for the show?
While some artists and entertainers are refraining people from taking pics and videos during the performance, Wallen is NOT one of them. So yes, cell phones are allowed inside. Just no selfie sticks!
What is prohibited for me to bring inside SPAC?
From the SPAC website:
Weapons of any kind – knives, guns, mace, pepper gas, or any other item deemed a potential weapon.
Alcohol
Illegal drugs/substances
All bags larger than 12" x 6" x 12", and bags larger than 4.5"x 6.5" are not clear.
Professional cameras with detachable lenses or cameras with lenses that extend 1″ or more
Glass, metal, cans (regardless of contents)
Hard/soft coolers
Average-sized bags/backpacks
Pop-up tents
Laser pointers
Animals (except ADA-approved service animals)
Fireworks or other incendiary devices
iPads/tablets
Selfie sticks
Any other item that may pose a threat to other guests, staff, or performers.
Spiked rings or collars
How many people will be at the show?
SPAC has a 25,000-person capacity with inside seats for 5,200 people and its lawn can hold an additional 20,000 people. Tonight's show is at max capacity.
Will there be a spot on the lawn for me, even if it's completely sold out?
There should be - but there are no guarantees. Even if you claim a spot early in the night, it could get filled up by others as the evening goes on.
The SPAC website adds,  "Please use only the space needed for your party so that others may enjoy the lawn seating. If needed, venue staff or an employee from Guest Services in the concession area will be available to assist in finding space on the lawn."
Every Country Artist Performing In Upstate NY In 2022
We are set for a big year of Country shows in 2022, and here is a complete list of artists set to perform in 2022 in the Capital Region and all over Upstate New York.
Jaw-Dropping Saratoga Lake Mansion With Waterfall & Wine Cellar
This stunning mansion has been on the market for a while and now the price has been reduced. It was $8.9 million and now a cool $7 million. When looking through the pictures of this gorgeous mansion my jaw was on the floor. There is so much attention to detail and elegance throughout this home. It sits on 15 acres with breathtaking views of Saratoga Lake. Check out the outdoor patio complete with a pool house that actually I would be happy calling my home. There is a built-in barbeque and the pool has a beautiful stone waterfall!
Inside the Lavish Saratoga Estate Built for NFL Great Bill Parcells
More From 103.9 The Breeze