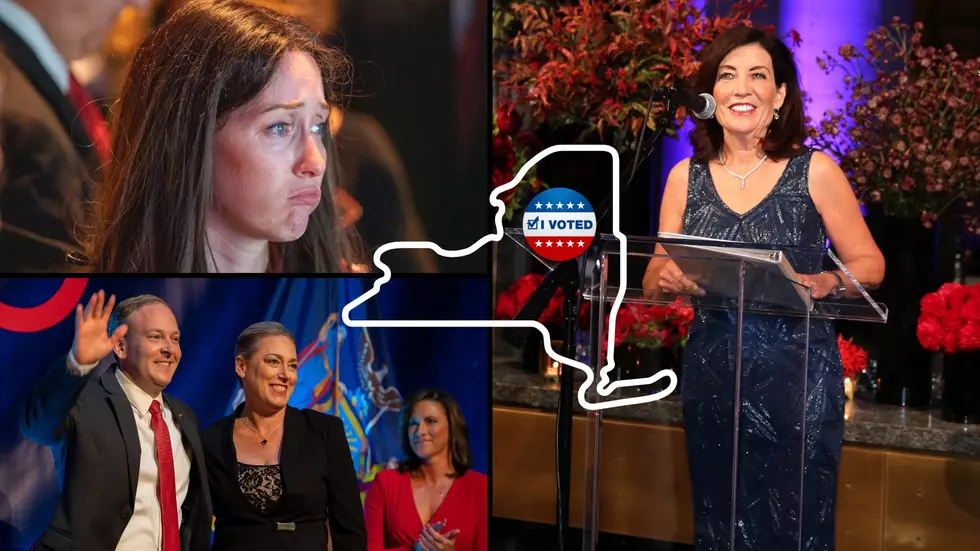 Governor Results are In! How did Your Upstate NY County Vote?
Getty Images
If you went out and voted yesterday, you did your civic duty - and congratulations to Governor Kathy Hochul who on Tuesday became New York's first female elected governor.
It's the day after Election Day and naturally, some of us are feeling pretty good this morning, some not so much, but regardless, we'll be okay.
And if you look at a breakdown of Upstate NY Counties, you'll see a pretty wide split among Capital Region residents who voted for Governor, in fact, 6 of 9 counties in our area didn't vote for the winner.
According to the New York Times, about 95% of the total gubernatorial election votes had been counted overnight when they distributed the voting data throughout the State of New York.
But what about the 9 counties that make up the Capital Region, and how did each one of them vote?
From the most populated to the least, here's a county-by-county breakdown of how people voted, and who they voted for in Upstate NY.
Albany County: after 114,145 votes Hochul winner
Saratoga Country: after 102,133 votes Zeldin winner
Rensselaer County: after 61,055 votes Zeldin winner 
Schenectady County: after 53,230 votes Hochul winner
Columbia County: after 29,140 votes Hochul winner
Washington County: after 20,784 votes Zeldin winner 
Fulton County: after 18,669 votes Zeldin winner 
Montgomery County: after 15,583 votes Zeldin winner 
Schoharie County:  after 12,549 votes Zeldin winner
A deeper dive into the rest of the data shows that while Zeldon was relatively successful here in the Capital Region, Hochul fared much better in downstate and western New York where heavily populated areas like Manhatten and Buffalo voted for the Democratic candidate.
10 Lost Stores Upstate New Yorkers Miss the Most at Xmas Time
Every Country Artist Performing In Upstate NY In 2022
We are set for a big year of Country shows in 2022, and here is a complete list of artists set to perform in 2022 in the Capital Region and all over Upstate New York.
See Vintage Storytown USA Postcards Dating Back to 1961!
We're lucky enough to share with you rare, vintage Storytown USA postcards that date all the way back to 1961 - just a few years after the legendary amusement park opened.
More From 103.9 The Breeze