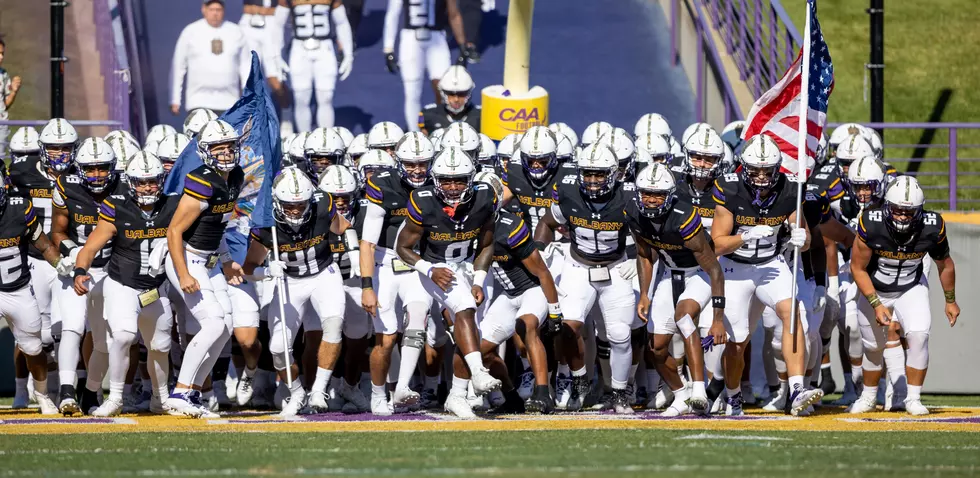 What Does Coach Gattuso Think About UA's Big Game This Saturday?
photo UAlbany Athletics
The UAlbany Football team is off to a 1-3 start this season.  After an 0-3 start where they dropped one at Baylor and two winnable games vs New Hampshire and at Fordham, they seem to be gaining some confidence and momentum after defeating Central Connecticut State in their last game.
The offense has been rolling led by redshirt freshman quarterback Reese Poffenbarger and graduate transfer running back Todd Sibley from Pittsburgh.  You also can't forget about senior tight end Thomas Greaney but those are just a few among other great offensive players for the Great Danes in 2022.  Monmouth will be a tough opponent for them on the road this Saturday at 1 p.m.
We were joined in studio this morning by UAlbany football head coach Greg Gattuso for our weekly UAlbany Coaches show which we do both radio and TV side.  Coach was with us for about a half hour and we dove into the difficult matchup ahead for his team traveling to Monmouth.
They just beat Villanova who was very highly ranked in the FCS a few weeks ago and have a very high powered offense.  Coach Gattuso seems to think his team is gaining and playing with a lot of confidence especially after their first win of the year.  Below is our full interview with him.
This will be a good and competitive football game on Saturday that UAlbany has a good chance to win.  These CAA road conference games are always huge to try and solidify yourself in the standings.  MJ and I will have the call on 104.5 The Team so tune in if you can!
Six Capital Region Counties Among Best 15 to Retire to in New York
When it's time to retire, residents of New York might want to look for homes in these counties, as the cost of living and amenities stand out from the rest.
The Capital Region's Ten Best Private High Schools
With enrollment down across New York Public Schools, enrollment in private schools is up. Here are the ten best private high schools in the Capital Region.
More From 103.9 The Breeze